VRA Partners Advises Avail Dermatology on its Sale to Epiphany Dermatology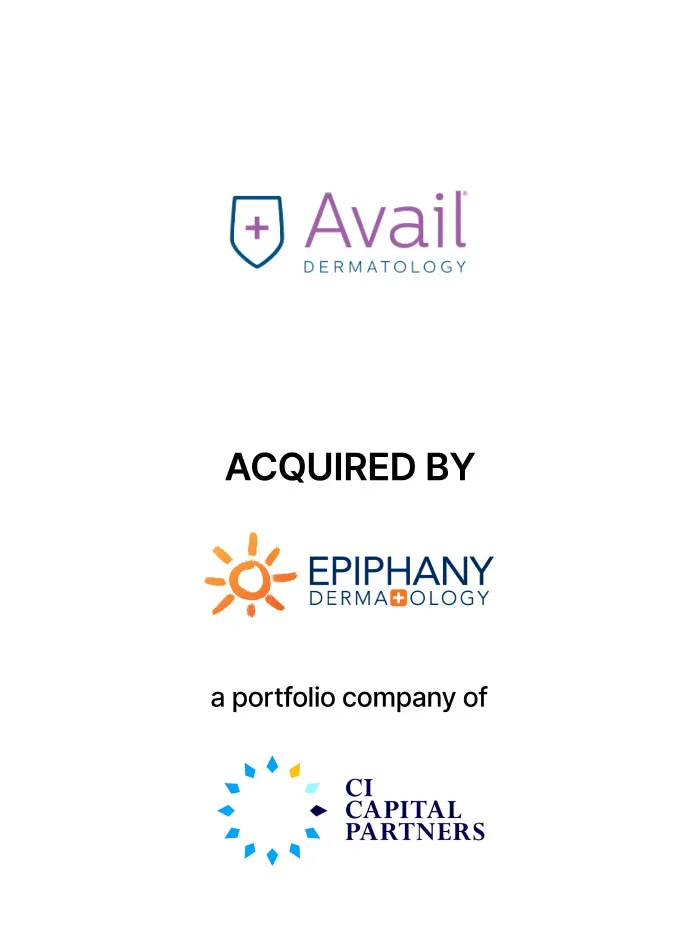 VRA Partners, LLC ("VRA Partners") is pleased to announce that Avail Dermatology ("Avail Dermatology" or the "Company"), a leading provider of dermatology services to patients in Georgia, has been acquired by Epiphany Dermatology ("Epiphany Dermatology"). VRA Partners acted as the exclusive financial advisor to Avail Dermatology. Terms of the transaction were not disclosed.
Originally founded in 1990, Avail Dermatology has a long-established reputation of providing high-quality dermatology services to patients in the greater Atlanta area. Led by Mark Ling, MD, and Steven Marcet, MD, Avail Dermatology's provider team is dedicated to personalized and professional skin care across its four locations in Newnan, Peachtree City, Stockbridge, and Fayetteville. The Company offers a broad range of dermatology products and services including medical, surgical, Mohs surgery and cosmetic dermatology services.
Epiphany Dermatology is a rapidly expanding dermatology company, driven by a passion to improve access to high quality dermatologic care in a values-based manner. Through its partnership with leading dermatologists across 67 locations in Arizona, Colorado, Georgia, Iowa, Kansas, Minnesota, Missouri, Montana, New Mexico, Oklahoma, Texas, and Wyoming, Epiphany provides general dermatology, skin cancer care, Mohs surgery, cosmetic services, and additional dermatologic services. Epiphany Dermatology is headquartered in Austin, Texas.
VRA Partners, an independent Atlanta-based investment bank, focuses on providing M&A services to leading middle-market companies and private equity firms. VRA Partners also assists companies with raising capital for growth, acquisitions, recapitalization, going-private and management buy-out transactions, and provides fairness opinions, valuations and strategic advisory services. The professionals of VRA Partners have transaction experience across a broad range of industry sectors, including consumer and retail, business services, healthcare services and technology, industrial products and services, and technology and communications. VRA Partners, LLC is a Member FINRA/SIPC. For more information, please visit our website at www.vrapartners.com.