VRA Partners Advises Byers Engineering Company on its Sale to MasTec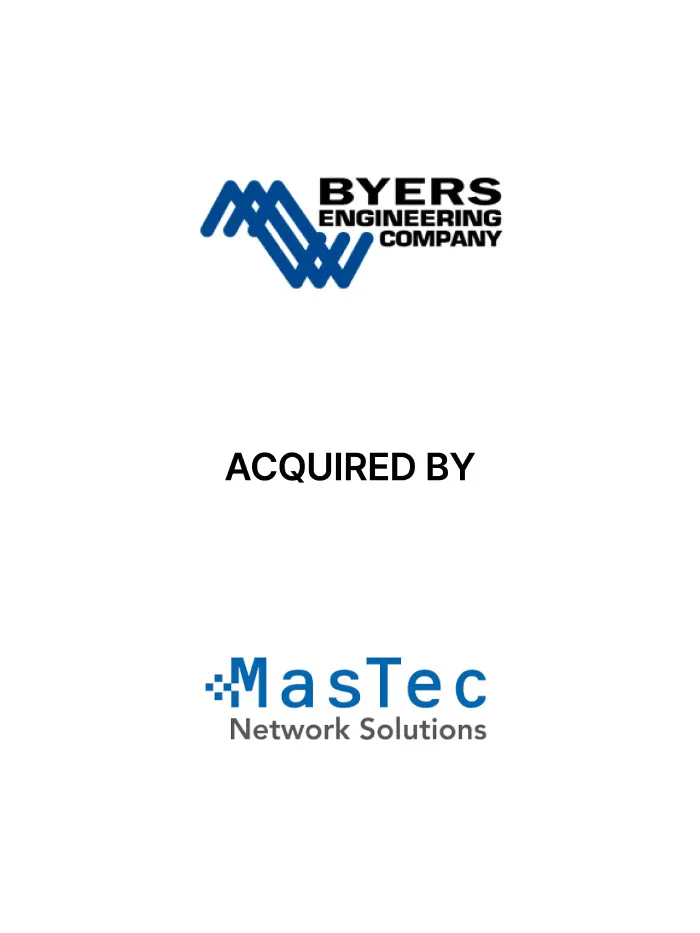 VRA Partners, LLC ("VRA Partners") is pleased to announce the sale of Byers Engineering Company ("Byers" or the "Company") to MasTec, Inc. ("MasTec"). VRA Partners acted as the exclusive financial advisor to Byers Engineering Company. Terms of the transaction were not disclosed.
Founded in 1971 and headquartered in Atlanta, Georgia, Byers Engineering Company is a prominent provider of high-quality technical services and software solutions to the communications and utility industries and government customers throughout the United States. The Company's engineering services include outside and inside plant design, planning, project management, inspection and right of way acquisition services. Byers also provides leading-edge SpatialAge® software solutions and data conversion, mapping and records services.
MasTec (NYSE: MTZ) is a leading infrastructure construction company operating mainly throughout North America across a range of industries. MasTec's primary activities include the engineering, building, installation, maintenance and upgrade of communications, energy and utility and other infrastructure, such as: wireless, wireline/fiber, satellite communications and customer fulfillment activities; petroleum and natural gas pipeline infrastructure; electrical utility transmission and distribution; power generation; and industrial infrastructure.
VRA Partners, an independent Atlanta-based investment bank, focuses on providing M&A services to leading middle-market companies and private equity firms. VRA Partners also assists companies with raising capital for growth, acquisitions, recapitalization, going-private and management buy-out transactions, and provides fairness opinions, valuations and strategic advisory services. The professionals of VRA Partners have transaction experience across a broad range of industry sectors, including consumer and retail, business services, healthcare services and technology, industrial products and services, and technology and communications. VRA Partners, LLC is a Member FINRA/SIPC. For more information, please visit our website at www.vrapartners.com.