VRA Partners Advises Devens Recycling Center on its Sale to Republic Services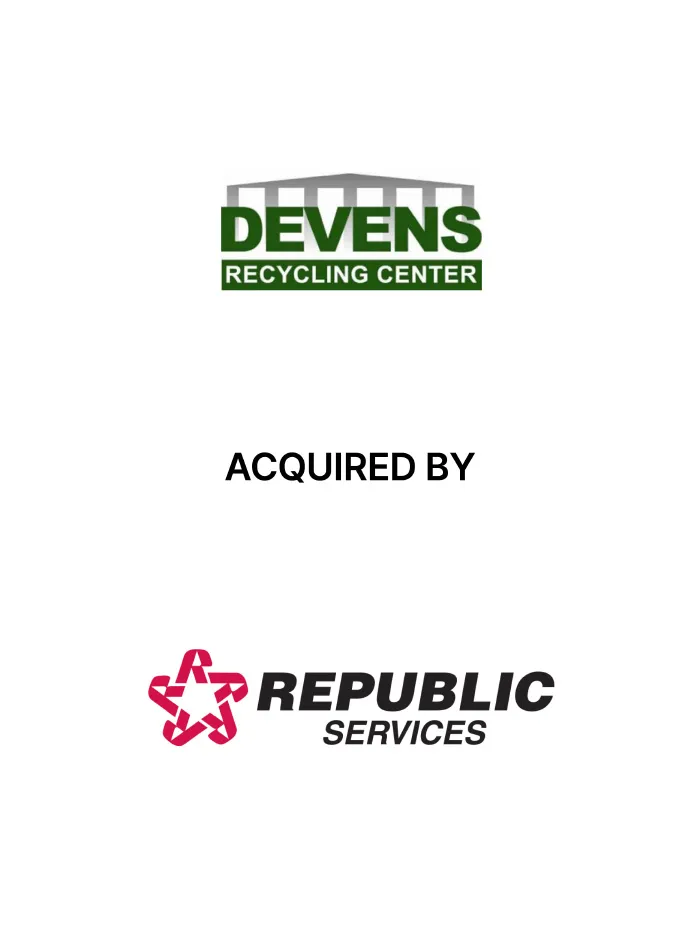 VRA Partners, LLC is pleased to announce the sale of Devens Recycling Center, LLC ("Devens" or the "Company") to Republic Services, Inc. (NYSE:RSG). VRA Partners acted as the exclusive financial advisor to Devens. Terms of the transaction were not disclosed.
Founded in 2006, Devens is a leading waste management services company that specializes in processing and recycling construction & demolition material and serving as a transfer station for municipal solid waste. The Company operates a state-of-the-art 100,000 square foot facility located in Devens, Massachusetts, approximately 40 miles northwest of Boston.
Republic Services, Inc. is a leader in U.S. recycling and non-hazardous solid waste disposal. Through its subsidiaries, Republic's collection operations, transfer stations, recycling processing centers, landfills and environmental services provide effective solutions to make responsible recycling and waste disposal effortless for its 14 million customers.
VRA Partners, an independent Atlanta-based investment bank, focuses on providing M&A services to leading middle-market companies and private equity firms. VRA Partners also assists companies with raising capital for growth, acquisitions, recapitalization, going-private and management buy-out transactions, and provides fairness opinions, valuations and strategic advisory services. The professionals of VRA Partners have transaction experience across a broad range of industry sectors, including consumer and retail, business services, healthcare services and technology, industrial products and services, and technology and communications. VRA Partners, LLC is a Member FINRA/SIPC. For more information, please visit our website at www.vrapartners.com.