VRA Partners Advises Gerdau on its Sale of Atmosphere Annealing and NitroSteel to Z Capital Partners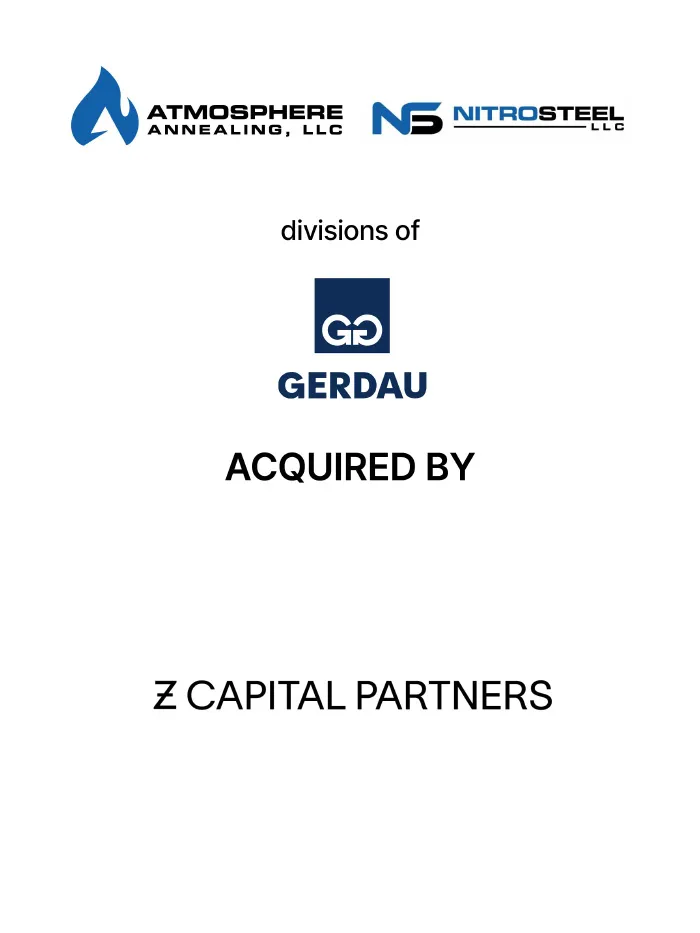 VRA Partners, LLC is pleased to announce that Atmosphere Annealing ("AA") and NitroSteel ("NS") have been acquired by Z Capital Partners, LLC. Both businesses were previously divisions of Gerdau S.A. (NYSE:GGB). VRA Partners acted as the exclusive financial advisor to Gerdau. Terms of the transaction were not disclosed.
Going forward AA and NS will collectively be known as Premier Thermal Solutions, LLC. AA provides metal heat treating and related services from plants in Michigan, Ohio and Indiana to various end-markets, including automotive, trucking, oil and gas, agriculture, heavy construction and military. AA has substantial metallurgical expertise and parts processed by AA provide durability and dependability required for mechanically strenuous jobs. NS provides environmentally friendly, cost-effective, and superior-performing ferritic nitro-carburized steel bars from its plant in Wisconsin that are utilized primarily in fluid power applications in the agricultural, construction, mining, marine, utility and automotive end-markets. NitroSteel's nitro-carburizing process is a "green" alternative to chrome with no hazardous by-products and provides improved wear resistance, better lubrication retention, dent resistance and increased service life for its products.
Gerdau is a leading producer of long steel in the Americas and one of the largest suppliers of special steel in the world. In Brazil, it also produces flat steel and iron ore, activities that are expanding its product mix and boosting its competitiveness. It is also the largest recycler in Latin America and around the world it transforms each year millions of tons of scrap into steel, reinforcing its commitment to sustainable development in the regions where it operates. Gerdau's shares are listed on the São Paulo, New York and Madrid stock exchanges.
Z Capital Partners is the private equity management arm of Z Capital Group, LLC, a leading alternative asset management firm with $2.3 billion in regulatory assets under management across complementary private equity and credit businesses. Z Capital manages both opportunistic, value-oriented private equity and credit funds with offices in New York, NY; Lake Forest, IL; and Zurich, Switzerland.
VRA Partners, an independent Atlanta-based investment bank, focuses on providing M&A services to leading middle-market companies and private equity firms. VRA Partners also assists companies with raising capital for growth, acquisitions, recapitalization, going-private and management buy-out transactions, and provides fairness opinions, valuations and strategic advisory services. The professionals of VRA Partners have completed more than 550 transactions across a broad range of industry sectors, including consumer and retail, business services, healthcare services and technology, industrial products and services, and technology and communications. VRA Partners, LLC is a Member FINRA/SIPC. For more information, please visit our website at www.vrapartners.com.