VRA Partners Advises Kamado Joe on its Majority Recapitalization with Dominus Capital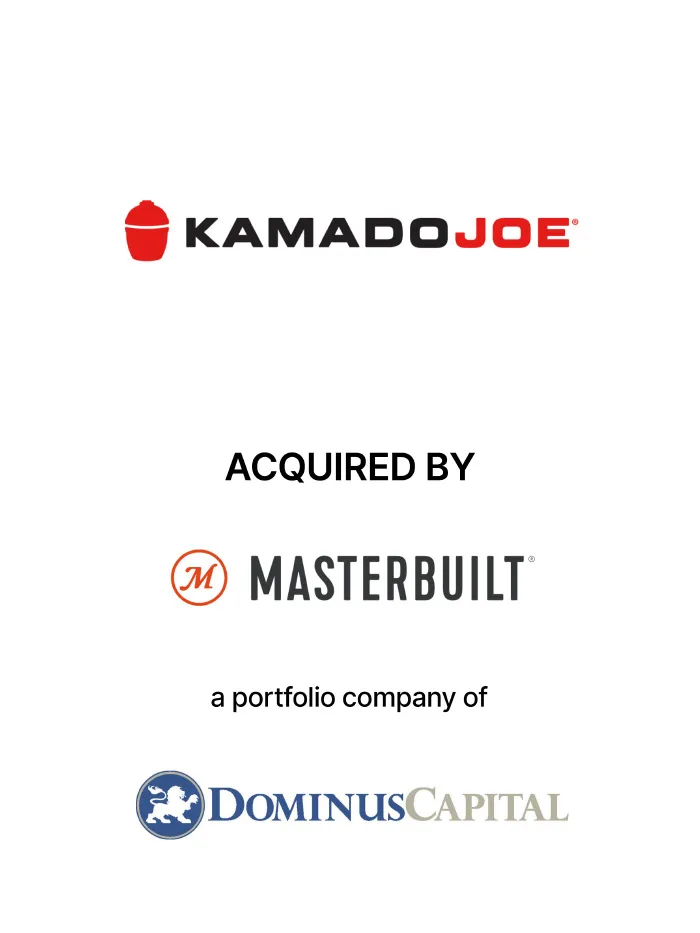 VRA Partners, LLC is pleased to announce that Premier Specialty Brands, LLC ("Kamado Joe"), a leading and rapidly growing designer, marketer and international distributor of premium kamado style ceramic grills, charcoal and accessories, has completed a majority recapitalization with Dominus Capital. This represents the third investment by Dominus in its roll-up of the specialty outdoor products space, which also includes investments in Masterbuilt Manufacturing and Smoke Hollow. VRA Partners acted as the exclusive financial advisor to Kamado Joe. Terms of the transaction were not disclosed.
Since its founding in 2009, Kamado Joe has built a premium brand focused on disrupting the grilling experience through the highest quality innovative products. The company has taken significant share of the ceramic grill space in a short time with its trademark red kamado grill and large following of passionate and engaged consumers. Kamado Joe is proud to have modernized the kamado grill's classic style with unparalleled craftsmanship, smarter features, innovative accessories and a range of flexible cooking surfaces. The company's products are sold worldwide through independent, national and digital accounts. With the introduction of an expanding portfolio of new products, Kamado Joe will continue to drive outdoor cooking innovation as a market leader going forward.
Kamado Joe's founders, Bobby Brennan and Kerry Coker, reinvested alongside Dominus in the transaction and will continue to participate in the ongoing business. "With tremendous opportunities ahead, Kamado Joe has reached an inflection point in our growth story. Our partnership with Dominus will provide the strategic and financial resources we need to become the clear kamado category leader and emerging lifestyle brand," said Mr. Brennan.
"We are extremely excited about what Kamado Joe brings to our combined business. Kamado Joe represents a best in class product with an equally impressive team behind it," said John McLemore, President and CEO of Masterbuilt. "Masterbuilt's scale, coupled with Kamado Joe's innovation, will allow us to continue providing consumers and distributors with the most comprehensive suite of products for their cooking and grilling experience."
For over 45 years, Masterbuilt has created innovative and simple-to-use cooking products with the consumer in mind. Masterbuilt is well-known for the quality of its electric smokers, fryers and complete line of grills and accessories. From the Butterball Electric Fryer to the Masterbuilt Electric Smoker, Masterbuilt strives to build products that bring family and friends together.
Based in New York, Dominus Capital is a leading middle-market private equity investment firm that focuses on management-led buyouts and growth capital investments in companies in the business services, light manufacturing and consumer sectors. Drawing on the experience, knowledge and network of its founders and a team of in-house operating executives, Dominus Capital works hand-in-hand with exceptional management teams to unlock the untapped potential of its portfolio companies. The firm takes a long-term and conservative approach to investing and has a consistent and successful track record of achieving significant growth at its portfolio companies. The Dominus Capital team members have executed over 65 transactions over the past 20+ years.
VRA Partners, an independent Atlanta-based investment bank, focuses on providing M&A services to leading middle-market companies and private equity firms. VRA Partners also assists companies with raising capital for growth, acquisitions, recapitalization, going-private and management buy-out transactions, and provides fairness opinions, valuations and strategic advisory services. The professionals of VRA Partners have transaction experience across a broad range of industry sectors, including consumer and retail, business services, healthcare services and technology, industrial products and services, and technology and communications. VRA Partners, LLC is a Member FINRA/SIPC.