VRA Partners Advises Kian Capital-Backed Driven Lighting Group on its Sale to Wheel Pros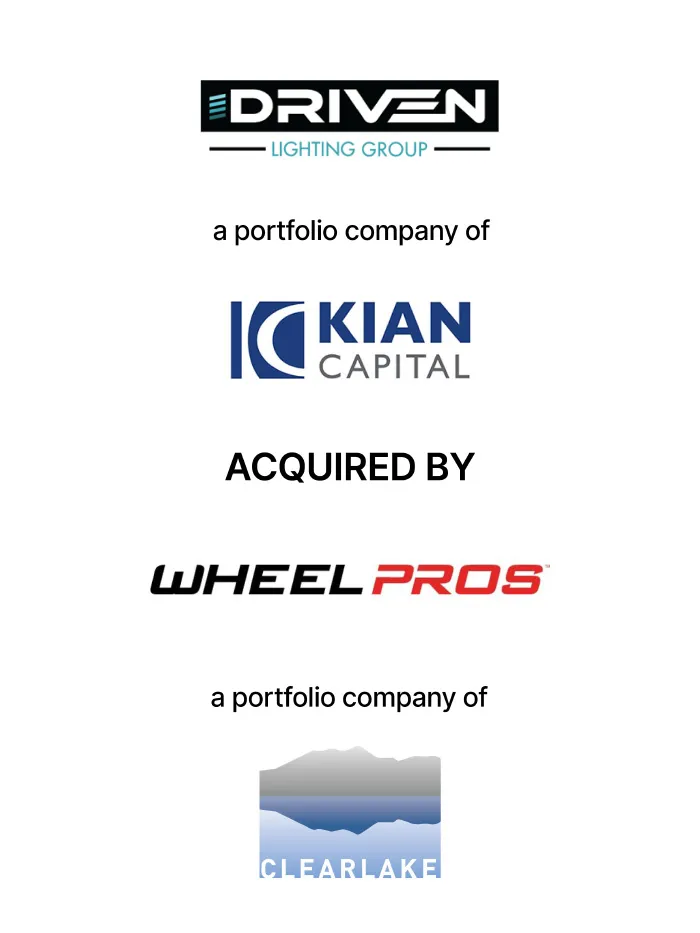 VRA Partners, LLC ("VRA Partners") is pleased to announce the sale of Driven Lighting Group ("DLG"), a portfolio company of Kian Capital Partners ("Kian"), to Wheel Pros, LLC ("Wheel Pros"), a portfolio company of Clearlake Capital Group, L.P ("Clearlake"). VRA Partners acted as the exclusive financial advisor to DLG. Terms of the transaction were not disclosed.
Headquartered in Atlanta, Georgia, Driven Lighting Group is a designer, marketer, influencer and online retailer of enthusiast automotive aftermarket lighting products. DLG has established brands, such as Morimoto, GTR Lighting and Profile Performance, and in-house product development capabilities that deliver high performance, quality products. DLG's creative content engine and e-commerce platforms have attracted a large community of enthusiasts that have propelled the business to clear industry leadership.
Founded in 1995, Wheel Pros serves the automotive enthusiast industry with a wide selection of vehicle enhancements from its portfolio of lifestyle brands, including Fuel-Off-Road, American Racing, KMC, Rotiform and Black Rhino. Utilizing its expanding global network of distribution centers spanning North America, Australia and Europe, Wheel Pros serves over 13,500 retailers and has a growing ecommerce presence to provide enthusiast consumers with access to the products they desire.
Kian is a private investment firm with $425 million of capital under management and a focus on four core industry sectors: consumer, services, value added distribution and specialty manufacturing. Kian's team of seasoned investors has over 80 years of collective experience providing transformational capital solutions and board-level strategic and operational guidance to founder / owner operated businesses. Kian provides flexible financial resources and additional operational horsepower to scale middle-market businesses, realize aspirations and deliver long-term investment returns through genuine partnership.
VRA Partners, an independent Atlanta-based investment bank, focuses on providing M&A services to leading middle-market companies and private equity firms. VRA Partners also assists companies with raising capital for growth, acquisitions, recapitalization, going-private and management buy-out transactions, and provides fairness opinions, valuations and strategic advisory services. The professionals of VRA Partners have transaction experience across a broad range of industry sectors, including consumer and retail, business services, healthcare services and technology, industrial products and services, and technology and communications. VRA Partners, LLC is a Member FINRA/SIPC. For more information, please visit our website at www.vrapartners.com.
This was one of the biggest moments of my life. VRA's M&A expertise and commitment to me and my team meant everything.

Matt Kossoff
Founder - The Retrofit Source