VRA Partners Advises Pearl Meyer & Partners on its Majority Recapitalization with Main Street Capital Corporation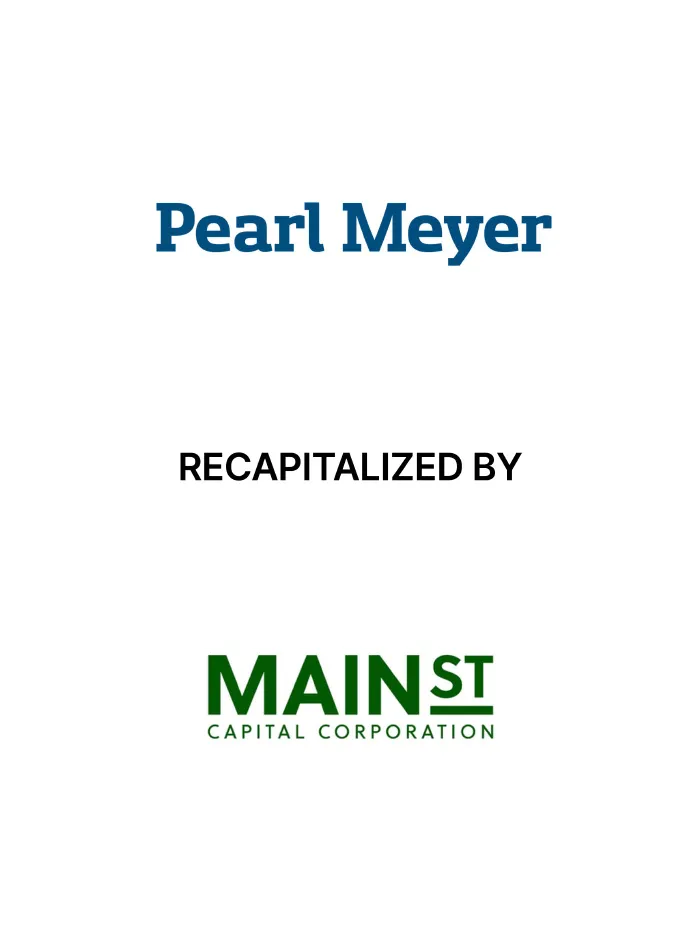 VRA Partners, LLC ("VRA Partners") is pleased to announce that Pearl Meyer & Partners, LLC ("Pearl Meyer" or the "Company") has completed a majority recapitalization with Main Street Capital Corporation (NYSE: MAIN) ("Main Street"). VRA Partners acted as the exclusive financial advisor to Pearl Meyer. Terms of the transaction were not disclosed.
Pearl Meyer is a leading provider of executive compensation consulting services, with a 30-year track record of successfully advising boards of directors, compensation committees and senior management teams on the alignment of executive compensation with business and leadership strategy. The Company has significant experience advising companies across the United States, United Kingdom and EMEA. The firm's client base spans a broad number of both public and private companies and not-for-profit institutions at every stage in their business lifecycle. Senior consultants at Pearl Meyer go beyond compliance-driven and peer group-based design of executive compensation programs, providing their clients with business-based, strategic thinking that transforms compensation from a cost of doing business into a competitive advantage and a catalyst for value creation.
Main Street is a principal investment firm that primarily provides long-term debt and equity capital to lower middle market companies and debt capital to middle market companies. Main Street's portfolio investments are typically made to support management buyouts, recapitalizations, growth financings, refinancings and acquisitions of companies that operate in diverse industry sectors. Main Street seeks to partner with entrepreneurs, business owners and management teams and generally provides "one stop" financing alternatives within its lower middle market portfolio.
VRA Partners, an independent Atlanta-based investment bank, focuses on providing M&A services to leading middle-market companies and private equity firms. VRA Partners also assists companies with raising capital for growth, acquisitions, recapitalization, going-private and management buy-out transactions, and provides fairness opinions, valuations and strategic advisory services. The professionals of VRA Partners have transaction experience across a broad range of industry sectors, including consumer and retail, business services, healthcare services and technology, industrial products and services, and technology and communications. VRA Partners, LLC is a Member FINRA/SIPC. For more information, please visit our website at www.vrapartners.com.