VRA Partners Advises Pride Utility Construction Co. on its Sale to Future Infrastructure Holdings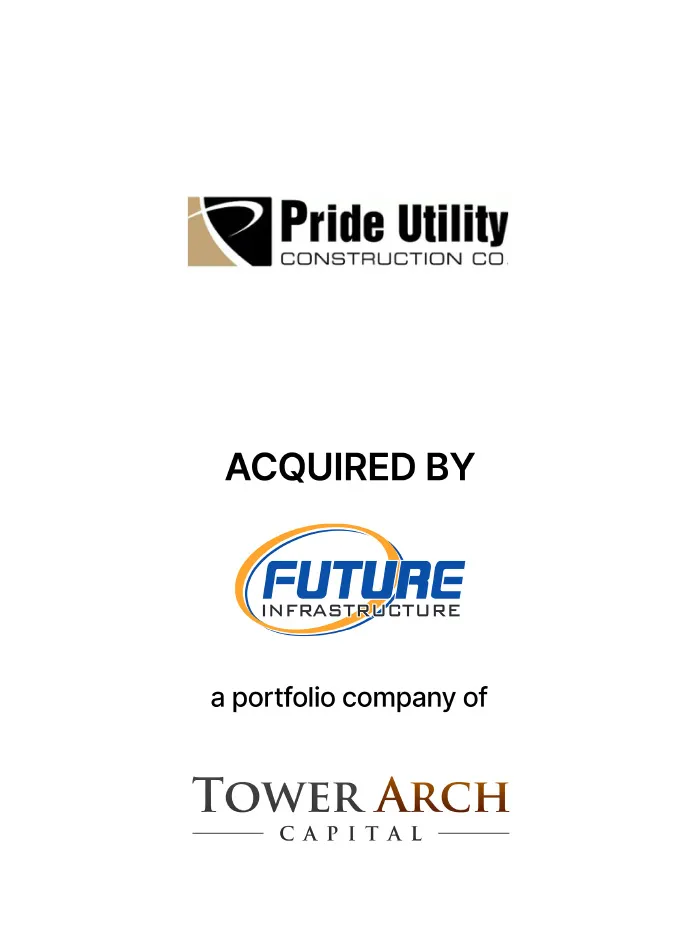 VRA Partners, LLC is pleased to announce the sale of Pride Utility Construction Co. ("Pride" or the "Company") to Future Infrastructure Holdings, LLC ("Future"), a portfolio company of Tower Arch Capital LLC ("Tower Arch"). VRA Partners acted as the exclusive financial advisor to Pride. Terms of the transaction were not disclosed.
Founded in 1991 and headquartered in Gainesville, Georgia, Pride specializes in the installation and upgrade of underground utility infrastructure, mainly supporting regulated natural gas service providers. Pride's services include steel and plastic distribution lines, regulator stations, horizontal directional drilling and other specialty services.
Founded in 1999 and headquartered in Mesquite, Texas, Future is a leading communications infrastructure and utility services provider in the region. Future provides specialized services including urban utility installations, pipeline services, emergency restoration, disaster recovery and engineering and inspection.
Tower Arch is a Utah-based lower-middle market private equity fund. Tower Arch focuses on partnering with and growing high-quality family and entrepreneur-owned companies to deliver long-term value for their management teams and investors. Tower Arch brings operational, consulting, and financial expertise to small companies to give them the tools they need to achieve their full potential.
VRA Partners, an independent Atlanta-based investment bank, focuses on providing M&A services to leading middle-market companies and private equity firms. VRA Partners also assists companies with raising capital for growth, acquisitions, recapitalization, going-private and management buy-out transactions, and provides fairness opinions, valuations and strategic advisory services. The professionals of VRA Partners have transaction experience across a broad range of industry sectors, including consumer and retail, business services, healthcare services and technology, industrial products and services, and technology and communications. VRA Partners, LLC is a Member FINRA/SIPC. For more information, please visit our website at www.vrapartners.com.