VRA Partners Advises Summit Hosting on its Majority Recapitalization with Silver Oak Services Partners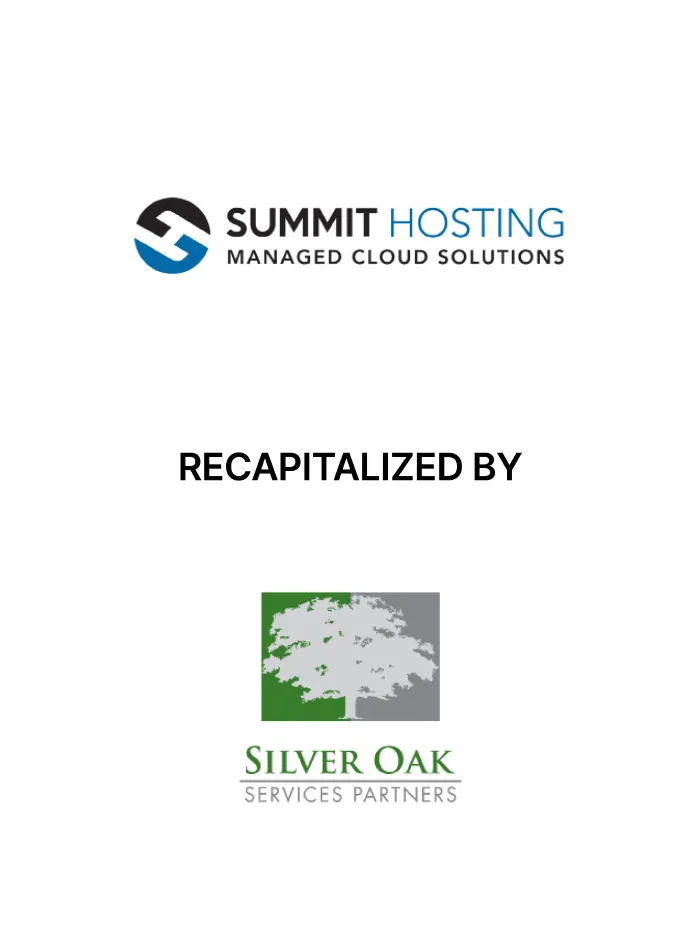 VRA Partners, LLC ("VRA Partners") is pleased to announce that Summit Hosting LLC ("Summit Hosting" or the "Company") has completed a majority recapitalization with Silver Oak Services Partners, LLC ("Silver Oak"). VRA Partners acted as the exclusive financial advisor to Summit Hosting. Terms of the transaction were not disclosed.
Founded in 2005 and headquartered in Alpharetta, Georgia, Summit Hosting is a provider of dedicated cloud hosting services for accounting and other business software applications for small and medium-sized businesses. Summit serves over 30,000 end users across a variety of end markets throughout the U.S. and Canada.
Founded in 2005 and based in Evanston, Illinois, Silver Oak is a lower-middle market private equity firm focused on partnering with exceptional management teams to build industry leading business, healthcare and consumer service companies. Silver Oak utilizes a proactive, research-led investment process to identify attractive services sectors and seek out the best potential management teams and investment opportunities. Silver Oak seeks to make control investments in leading service businesses with $15 to $150 million in revenue. The firm is currently investing out of its fourth fund, a $500 million investment vehicle.
VRA Partners, an independent Atlanta-based investment bank, focuses on providing M&A services to leading middle-market companies and private equity firms. VRA Partners also assists companies with raising capital for growth, acquisitions, recapitalization, going-private and management buy-out transactions, and provides fairness opinions, valuations and strategic advisory services. The professionals of VRA Partners have transaction experience across a broad range of industry sectors, including consumer and retail, business services, healthcare services and technology, industrial products and services, and technology and communications. VRA Partners, LLC is a Member FINRA/SIPC. For more information, please visit our website at www.vrapartners.com.