VRA Partners Advises WorkingBuildings on its Sale to Trinity Consultants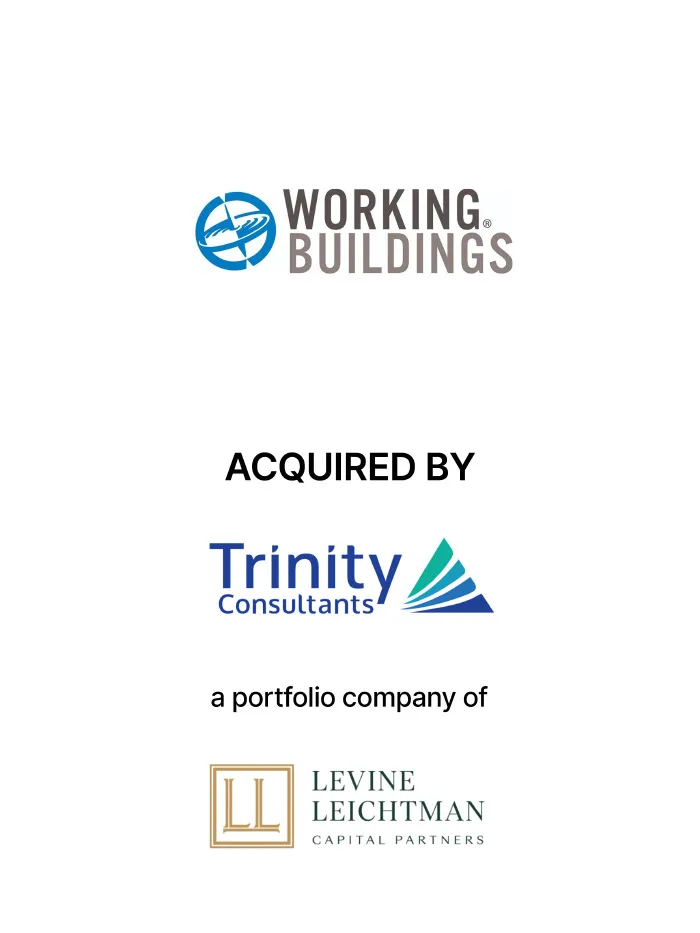 VRA Partners, LLC is pleased to announce the sale of WorkingBuildings, LLC (the "Company") to Trinity Consultants, Inc. ("Trinity"), a portfolio company of Levine Leichtman Capital Partners ("LLCP"). VRA Partners acted as the exclusive financial advisor to WorkingBuildings. Terms of the transaction were not disclosed.

Founded in 1999 and headquartered in Atlanta, Georgia, WorkingBuildings is a leading provider of (i) specialty engineering and consulting services for complex buildings and (ii) proprietary construction related software (CxAlloy). The Company identifies, resolves and prevents obstacles related to the performance, regulatory compliance and fiscal requirements of complex buildings, primarily in the Clinical, Healthcare, Life Sciences, Data Center, Global / National Security and Commercial and Education sectors. WorkingBuildings' primary engineering and consulting services include: Programming & Needs Analysis, Early Assessment & Design, Regulatory Compliance, Sustainability, Program & Construction Management, New & Existing Building Commissioning and Transitional and Operations & Maintenance Services.
Founded in 1974, Trinity is an environmental, health, and safety (EHS), engineering, and sciences consulting firm with over 950 employees and 65 offices across the U.S. and in Canada, the U.K., China, and Australia. Trinity is an employee owned, private equity backed, consultancy focused on addressing our clients' mission-critical EHS, engineering, and related science-based challenges. Trinity also addresses broader performance and risk management issues such as quality assurance, auditing and verification, sustainability, and management systems.
LLCP is a California-based private investment firm. LLCP has managed approximately $10.7 billion of institutional capital over its thirty-five-year history of investing in growing, middle-market companies. LLCP invests in middle market companies located in the United States, the United Kingdom and Europe.
VRA Partners, an independent Atlanta-based investment bank, focuses on providing M&A services to leading middle-market companies and private equity firms. VRA Partners also assists companies with raising capital for growth, acquisitions, recapitalization, going-private and management buy-out transactions, and provides fairness opinions, valuations and strategic advisory services. The professionals of VRA Partners have transaction experience across a broad range of industry sectors, including consumer and retail, business services, healthcare services and technology, industrial products and services, and technology and communications. VRA Partners, LLC is a Member FINRA/SIPC. For more information, please visit our website at www.vrapartners.com.