VRA Partners Acted as Private Placement Agent to LogFire on its $8.25 million Series A Financing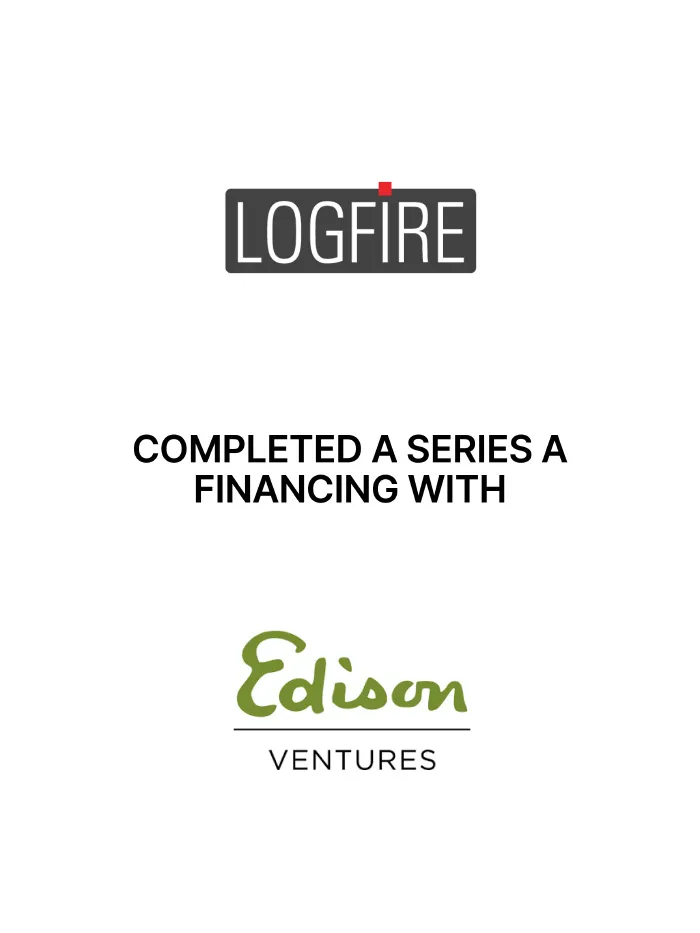 VRA Partners, LLC is pleased to announce that LogFire, LLC ("LogFire"), the leading multi-tenant, cloud-based warehousing and in-store inventory management and fulfillment platform provider, has completed an $8.25 million Series A financing. The investment was led by Edison Ventures with participation from Fulcrum Equity Partners ("Fulcrum"). The financing will accelerate LogFire's growth, drive innovation and strengthen efforts to further penetrate the cloud-based supply chain market globally across diverse industries. VRA Partners acted as the exclusive private placement agent for LogFire on the equity financing.
LogFire, based in Atlanta, GA, is the leading provider of innovative multi-tenant cloud-based supply chain execution, warehouse management, in-store inventory management, and fulfillment solutions for manufacturers, wholesalers, retailers, e-commerce companies and logistics service providers (3PLs/4PLs) of all sizes. LogFire combines strong supply chain, warehousing, logistics, and retail domain expertise with flexible cloud-based solutions and Software-as-a-Service (SaaS) pricing for multi-channel warehouse management and in-store inventory management needs, providing inter-enterprise as well as extended-enterprise network and total cost of ownership advantages over traditional systems. More than 5000 users worldwide across leading retailers, wholesalers, third-party logistics (3PLs), manufacturers, and ecommerce companies rely on LogFire to solve critical multi-channel warehouse management and supply chain fulfillment challenges. LogFire's solutions are quickly and easily implemented with flexible configuration capabilities for even the most complex multi-channel inventory and fulfillment needs.
Edison Ventures, with offices in Lawrenceville, NJ, New York, NY, McLean, VA and Cleveland, OH, is a growth equity fund with over $850 million in active investments throughout the eastern United States. Edison Ventures provides expansion capital and the Edison Edge platform, consisting of strategic advisory, the Edison Director Network, and both industry and functional events, to growth stage businesses. Edison Ventures invests in the financial technology, healthcare IT, enterprise IT, and interactive marketing industries. Edison Ventures' investment objectives also include: buyouts, recapitalizations, spinouts and secondary stock purchases.
Fulcrum Equity Partners, based in Atlanta, GA, is a growth equity fund with over $140 million under management. Fulcrum invests in a wide variety of industries with an emphasis on information technology, healthcare, business services, and technology enabled operating companies. Fulcrum provides financing to meet a wide range of needs, including internal growth initiatives, acquisitions, management buy-outs, shareholder liquidity and recapitalizations.
VRA Partners, an independent Atlanta-based investment bank, focuses on providing merger and acquisition advisory services to middle-market companies and private equity firms. VRA Partners also assists companies with raising capital for growth, acquisitions, recapitalization, going-private and management buy-out transactions, and provides fairness opinions, valuations and strategic advisory services. The professionals of VRA Partners have completed more than 500 transactions with aggregate transaction value in excess of $35 billion across a broad range of industry sectors, including business services, consumer and retail, healthcare, industrial, manufacturing, media and technology. VRA Partners, LLC is a Member FINRA/SIPC. For more information, please visit our website at www.vrapartners.com.