VRA Partners Advises DiscoverReady in a Sale Transaction to Dolan Media Company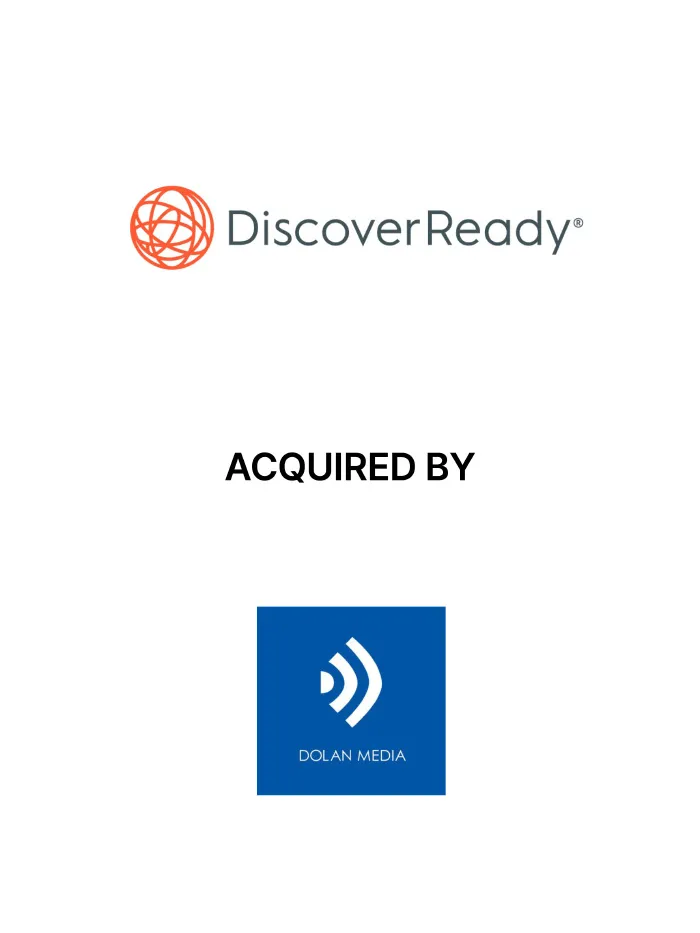 VRA Partners, LLC is pleased to announce that DiscoverReady LLC, a leading provider of outsourced discovery management and fixed-fee document review services to major companies and their counsel, has sold an 85% equity interest to Dolan Media Company, a leading provider of professional services and business information to the legal, financial and real estate sectors in the United States. VRA Partners acted as the exclusive financial advisor to DiscoverReady. The transaction was led by Brock Matthias, Mark Loeffler, Ron Shah, and Kurt Alexander.
DiscoverReady assists major corporations and their counsel in litigation and regulatory matters by providing integrated discovery solutions that drastically reduce legal costs while delivering high quality, defensible document review. DiscoverReady's customers include leading law firms, major banks and Wall Street firms, and Fortune 500 corporations. DiscoverReady uses proprietary processes and tools such as its PrivBank™, PrivView™, and Dynamic Data Analysis™ to streamline attorney document reviews and deliver defensible results at costs that can be as much as 40% lower than traditional methods. The company also provides technology management services.
Dolan Media Company is a leading provider of professional services and business information to the legal, financial and real estate sectors. Its Professional Services Division provides specialized services to the legal profession through its subsidiaries, NDeX, Counsel Press and now DiscoverReady. NDeX is a leading provider of mortgage default processing services in the United States. Counsel Press is the nation's largest provider of appellate services to the legal community. The company's Business Information Division publishes business journals, court and commercial media and other highly focused information products and services, operates web sites and produces events for targeted professional audiences in each of the 21 geographic markets that it serves across the United States.
VRA Partners, an independent Atlanta-based investment bank, focuses on providing M&A services to middle-market companies and private equity firms. VRA Partners also assists companies with raising capital for growth, acquisitions, recapitalization, going-private and management buy-out transactions, and provides fairness opinions, valuations and strategic advisory services. The professionals of VRA Partners have completed more than 500 transactions across a broad range of industry sectors, including business services, consumer and retail, healthcare, industrial, media and technology. VRA Partners, LLC is a Member FINRA/SIPC. For more information, please visit our website at www.vrapartners.com.