VRA Partners Advises J.A. Thomas & Associates in its Sale to Nuance Communications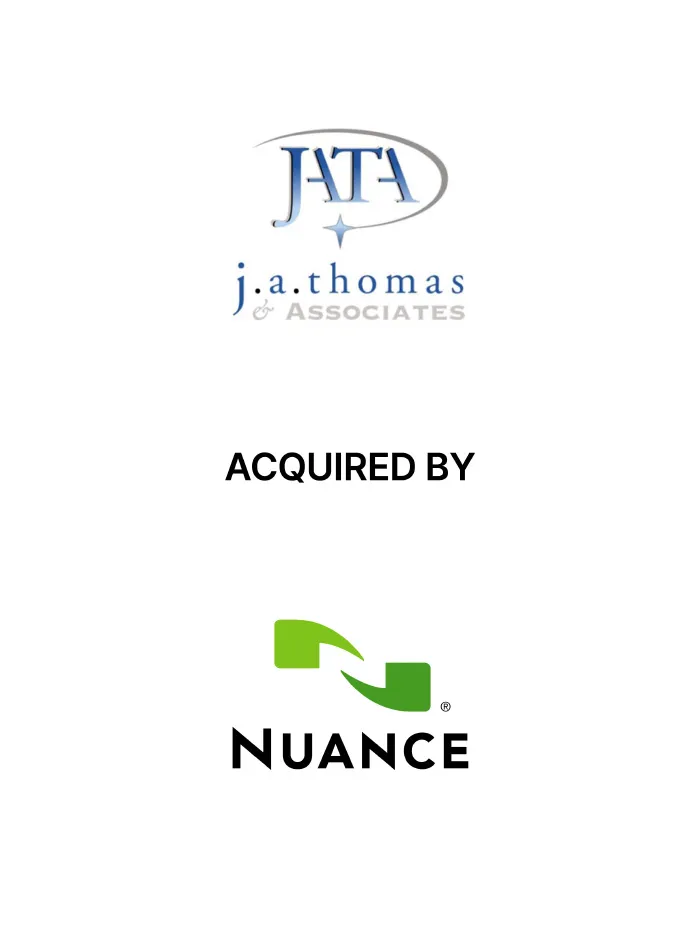 VRA Partners, LLC is pleased to announce that J.A. Thomas & Associates, Inc. ("JATA" or the "Company"), the nation's premier provider of clinical documentation improvement ("CDI") programs for the healthcare industry, has been acquired by Nuance Communications, Inc. ("Nuance") (NASDAQ: NUAN). VRA Partners acted as the exclusive financial advisor to JATA for this transaction. The total consideration to JATA shareholders amounted to $265 million, consisting of $240 million in cash at closing and $25 million payable in cash or shares of Nuance common stock on the second anniversary of the closing date, subject to certain adjustments and conditions.
JATA helped establish the CDI industry and for more than two decades has provided technology and professional services that improve clinical documentation for healthcare providers. Its managed, end-to-end CDI solution has helped more than 500 hospitals improve patient care documentation by starting the CDI process with the physician at the point of care, resulting in more accurate and complete clinical documentation.
Founded in Atlanta, Georgia in 1991, JATA has since become the nationally recognized leader in healthcare compliance and documentation improvement. The Company's innovative Compliant Documentation Management Program® has helped hospitals and physicians nationwide improve case mix index ("CMI") by an average of four to eight percent. The firm was founded by clinical professionals who brought together clinical and business insights from doctors, nurses, coders and administrators. The result is a program that blends clinical expertise with compliance to ensure the accuracy of clinical documentation reflecting the appropriate severity of illness.
Nuance is a leading provider of voice and language solutions for businesses and consumers around the world. The company's technologies, applications and services make the user experience more compelling by transforming the way people interact with devices and systems. Nuance will integrate JATA's CDI strategies with its Nuance Clinical Language Understanding technology to provide hospitals and physicians with a singular platform for an end-to-end clinical documentation solution. It will enhance physician workflow, documentation accuracy and coder productivity.
VRA Partners, an independent Atlanta-based investment bank, focuses on providing M&A services to middle-market companies and private equity firms. VRA Partners also assists companies with raising capital for growth, acquisitions, recapitalization, going-private and management buy-out transactions, and provides fairness opinions, valuations and strategic advisory services. The professionals of VRA Partners have completed more than 500 transactions across a broad range of industry sectors, including business services, consumer and retail, healthcare, industrial, media and technology. VRA Partners, LLC is a Member FINRA/SIPC. For more information, please visit our website at www.vrapartners.com.