VRA Partners Advises Ned Davis Research Group in its Sale to Euromoney Institutional Investor PLC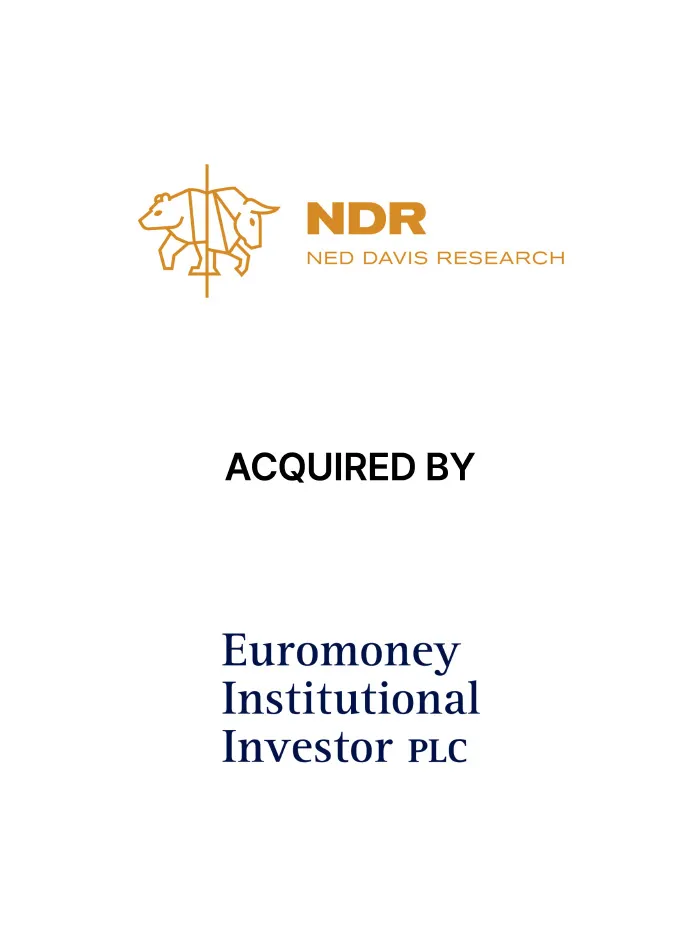 VRA Partners, LLC is pleased to announce that Ned Davis Research Group ("NDRG" or the "Company"), a leading provider of independent investment research, has been acquired by Euromoney Institutional Investor PLC ("Euromoney") (LSE: ERM). VRA Partners acted as the exclusive financial advisor to NDRG for this transaction. The transaction closed on July 29, 2011. Euromoney paid approximately $108 million for an 85% interest in NDRG. Ned Davis, who co-founded NDRG in 1980, retained an equity interest in the Company, and several key senior managers will also invest in NDRG. The maximum amount payable by Euromoney for a 100% interest in NDRG is $173 million.
NDRG is a leading provider of independent investment research sold to a broad range of hedge funds, mutual funds, pension and endowment funds, insurance companies, registered investment advisors, investment banks and other financial institutions in the U.S. and approximately 40 countries around the world. NDRG provides a complete 360? investment strategy research solution, driven by a unique blend of macroeconomic, technical, fundamental, quantitative and investor sentiment analysis. NDRG's research is delivered to its clients via regularly published reports and charts, event-driven publications and via the Company's technologically advanced web portal. NDRG is comprised of Ned Davis Research, Inc. ("NDR"), a registered investment advisor located in Venice, Florida, and Davis, Mendel & Regenstein, Inc. ("DMR"), a registered broker dealer and member of FINRA/SIPC with offices in Atlanta, Boston and San Francisco.
Euromoney is a leading international business-to-business media group focused primarily on the international finance, metals and commodities sectors. It publishes more than 70 titles, including Euromoney, Institutional Investor and Metal Bulletin. Euromoney also runs an extensive portfolio of conferences, seminars and training courses and is a leading provider of electronic information, research and data services covering international finance, metals and emerging markets.
VRA Partners, an independent Atlanta-based investment bank, focuses on providing M&A services to middle-market companies and private equity firms. VRA Partners also assists companies with raising capital for growth, acquisitions, recapitalization, going-private and management buy-out transactions, and provides fairness opinions, valuations and strategic advisory services. The professionals of VRA Partners have completed more than 500 transactions across a broad range of industry sectors, including business services, consumer and retail, healthcare, industrial, media and technology. VRA Partners, LLC is a Member FINRA/SIPC. For more information, please visit our website at www.vrapartners.com.