VRA Partners Advises Origin Development Group on a Sale of its Assets to Chicken Salad Chick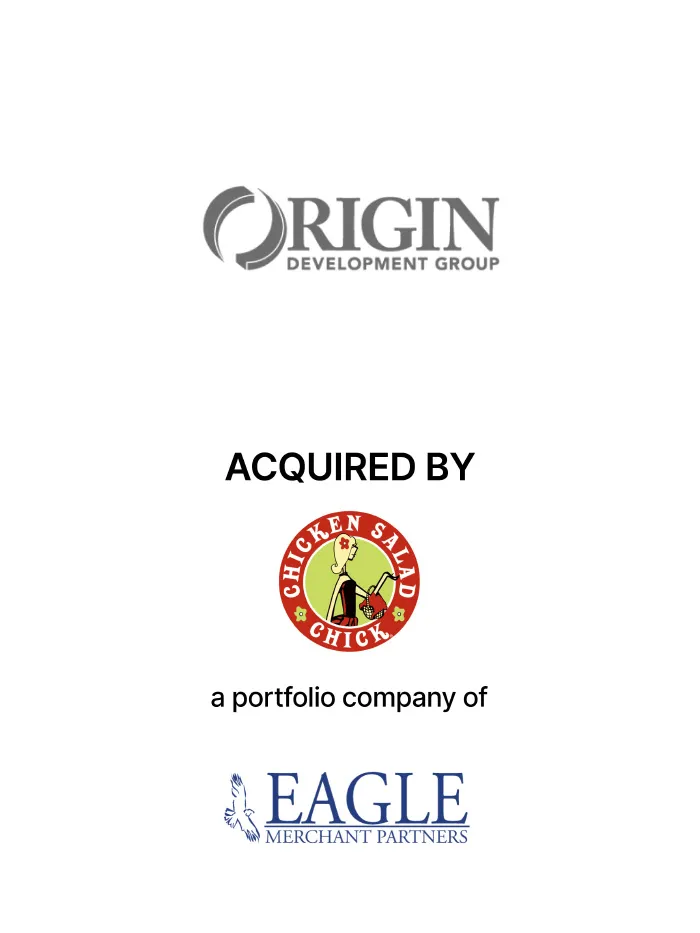 VRA Partners, LLC is pleased to announce that Origin Development Group, LLC ("Origin"), a franchisee of Chicken Salad Chick in the Atlanta, Athens and Augusta, Georgia markets, has sold its 11 existing locations to Chicken Salad Chick ("CSC"), a portfolio company of Eagle Merchant Partners. The transaction closed on December 19, 2018. VRA Partners acted as the exclusive financial advisor to Origin. Terms of the transaction were not disclosed.
Origin Development Group is a privately held fund focused on brand growth in the restaurant industry.
As a multi-unit developer, Origin serves as a strategic growth partner for new and established fast-casual restaurant brands. Origin also grows emerging restaurants brands through capital investment, creating licensing and franchise programs, managing operations or retaining rights as a franchisee or master franchisee.
Founded in Auburn, Alabama, in 2008, Chicken Salad Chick serves full-flavored, Southern-style chicken salad made from scratch and served from the heart. With more than a dozen original chicken salad flavors as well as fresh side salads, gourmet soups, signature sandwiches and delicious desserts, Chicken Salad Chick's robust menu is a perfect fit for any guest. Today, the brand has 105 restaurants in 12 states and is continuing its rapid expansion with both franchise and company locations. CSC is owned by Eagle Merchant Partners, a private equity firm based in Atlanta, GA.
VRA Partners, an independent Atlanta-based investment bank, focuses on providing M&A services to leading middle-market companies and private equity firms. VRA Partners also assists companies with raising capital for growth, acquisitions, recapitalization, going-private and management buy-out transactions, and provides fairness opinions, valuations and strategic advisory services. The professionals of VRA Partners have transaction experience across a broad range of industry sectors, including consumer and retail, business services, healthcare services and technology, industrial products and services, and technology and communications. VRA Partners, LLC is a Member FINRA/SIPC. For more information, please visit our website at www.vrapartners.com.