VRA Partners Advises Pharmatek Systems on its Sale to McKesson Pharmacy Optimization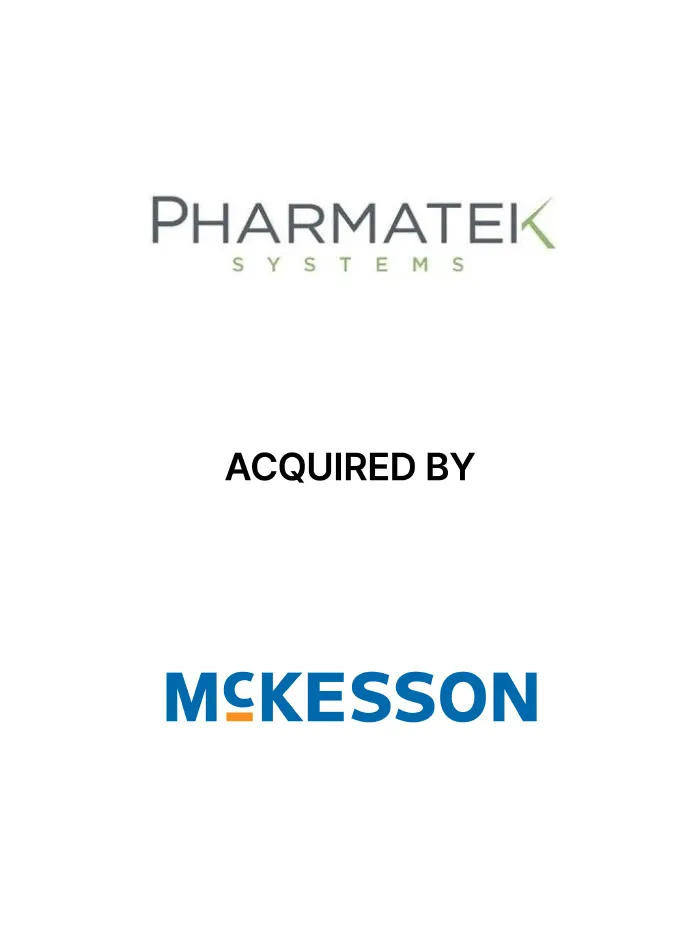 VRA Partners, LLC is pleased to announce that Pharmatek Systems, LLC ("Pharmatek" or the "Company"), a leading provider of hospital pharmacy cost containment and revenue cycle strategies, has been acquired by McKesson Pharmacy Optimization LLC, a subsidiary of McKesson Corporation (NYSE:MCK). VRA Partners acted as the exclusive financial advisor to Pharmatek. Terms of the transaction were not disclosed.
Pharmatek is a leading provider of hospital pharmaceutical cost containment software and services to healthcare providers and health systems. The Company's pharmaceutical software and services include: (i) pharmaceutical and device recovery for uninsured and underinsured patient populations, (ii) audit and revenue integrity services, (iii) cost modeling, expense analytics, profitability analytics and performance reporting and (iv) pharmaceutical management and tracking. Pharmatek is headquartered in Parsippany, New Jersey and serves over 150 hospitals across 15 states.
McKesson Corporation is a global healthcare leader in pharmaceutical distribution and supply chain management. McKesson is headquartered in San Francisco, California and has nearly 700,000 employees globally.
VRA Partners, an independent Atlanta-based investment bank, focuses on providing M&A services to leading middle-market companies and private equity firms. VRA Partners also assists companies with raising capital for growth, acquisitions, recapitalization, going-private and management buy-out transactions, and provides fairness opinions, valuations and strategic advisory services. The professionals of VRA Partners have completed more than 550 transactions across a broad range of industry sectors, including consumer and retail, business services, healthcare services and technology, industrial products and services, and technology and communications. VRA Partners, LLC is a Member FINRA/SIPC. For more information, please visit our website at www.vrapartners.com.