VRA Partners Advises Responsive Data Solutions on its Sale to Advanced Discovery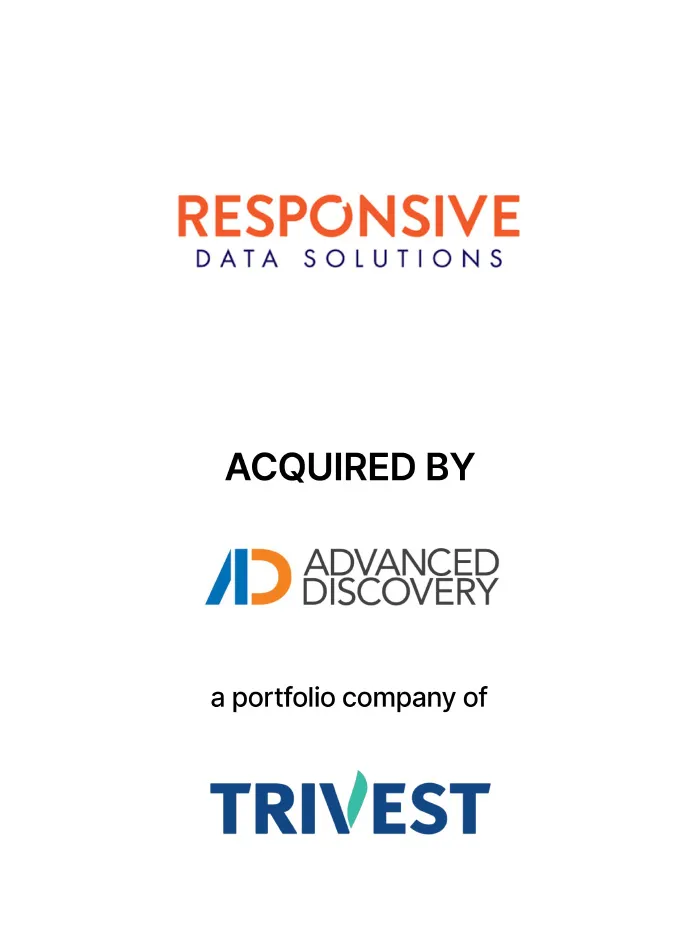 VRA Partners, LLC is pleased to announce that Responsive Data Solutions, LLC ("RDS"), a leading litigation support services provider, has been acquired by Advanced Discovery, LLC ("Advanced"), a portfolio company of Trivest Partners, L.P. ("Trivest"). VRA Partners acted as exclusive financial advisor to RDS for this transaction. Terms of the transaction were not disclosed.
Responsive Data Solutions is a Washington D.C.-based provider of litigation support services and technical solutions to U.S. law firms and corporate legal departments. RDS offers a comprehensive suite of services that includes forensics, e-discovery processing, review database hosting, paper and print discovery services, and technology-assisted review and trial preparation.
Advanced Discovery is a leading provider of investigatory and litigation services for corporations, law firms and governmental agencies in the U.S. Advanced provides an end-to-end electronic data discovery solution, including identification, collections, forensics, data analysis and minimization, processing and early case assessment, hosting and review, and managed review.
Based in Miami, Florida, Trivest Partners is a private investment firm that focuses on partnering with founder/family-owned businesses in the United States and Canada. Since its founding in 1981, Trivest has completed more than 200 transactions, totaling over $5.0 billion in value.
VRA Partners, an independent Atlanta-based investment bank, focuses on providing merger and acquisition advisory services to middle-market companies and private equity firms. VRA Partners also assists companies with raising capital for growth, acquisitions, recapitalization, going-private and management buy-out transactions, and provides fairness opinions, valuations and strategic advisory services. The professionals of VRA Partners have completed more than 550 transactions with aggregate transaction value in excess of $40 billion across a broad range of industry sectors, including business services, consumer and retail, healthcare, industrial, manufacturing, media and technology. VRA Partners, LLC is a Member FINRA/SIPC. For more information, please visit our website at www.vrapartners.com.