VRA Partners Advises Ritz Camera & Image on its Recapitalization Transaction with Transom Capital Group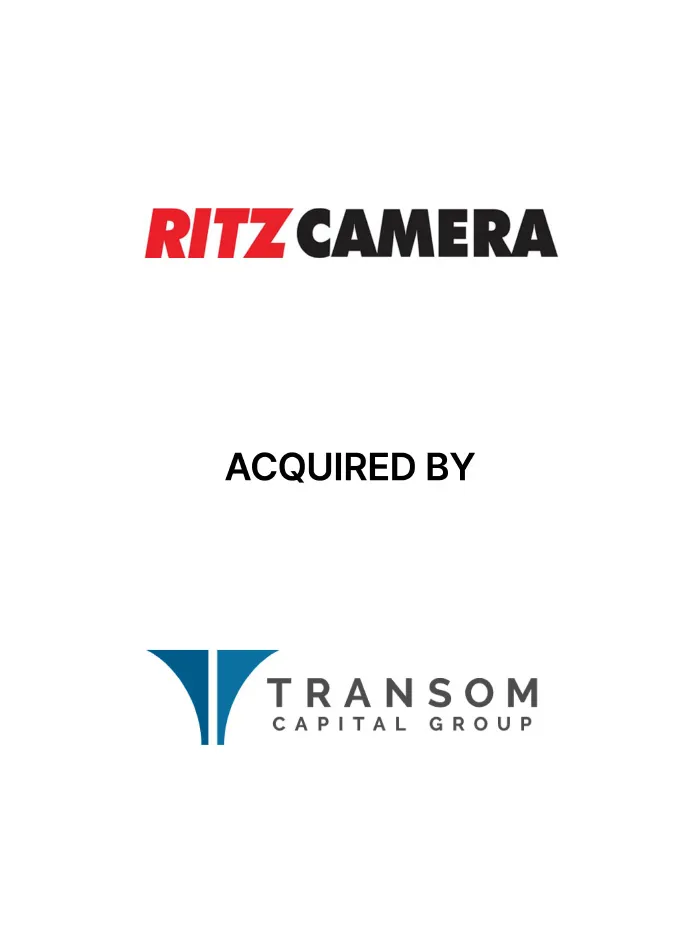 VRA Partners, LLC is pleased to announce that Ritz Camera & Image, LLC ("Ritz" or the "Company"), the leading specialty retailer of premium camera and imaging products in the United States, has been recapitalized by Transom Capital Group, a private equity firm based in Los Angeles, California. VRA Partners acted as the exclusive financial advisor to Ritz. The transaction closed on August 19, 2011. Terms of the transaction were not disclosed.
Ritz is the leading multi-channel specialty retailer of premium camera and imaging products and services in the U.S., operating approximately 300 retail stores in 34 states. Through the Company's nationwide footprint and rapidly growing online presence, Ritz sells a wide variety of merchandise, including camera equipment and accessories and related image display and storage products. Additionally, Ritz is the only national retailer capable of producing the full spectrum of imaging products in-store, including photo books, personalized cards, other custom photo publishing products, and prints and enlargements. The Company's retail and online channels create a unique "bricks 'n clicks" integrated solution that leverages the Company's store network and in-store imaging capabilities to maximize customer convenience, service, and satisfaction.
VRA Partners, an independent Atlanta-based investment bank, focuses on providing M&A services to middle-market companies and private equity firms. VRA Partners also assists companies with raising capital for growth, acquisitions, recapitalization, going-private and management buy-out transactions, and provides fairness opinions, valuations and strategic advisory services. The professionals of VRA Partners have completed more than 500 transactions across a broad range of industry sectors, including business services, consumer and retail, healthcare, industrial, media and technology. VRA Partners, LLC is a Member FINRA/SIPC. For more information, please visit our website at www.vrapartners.com.